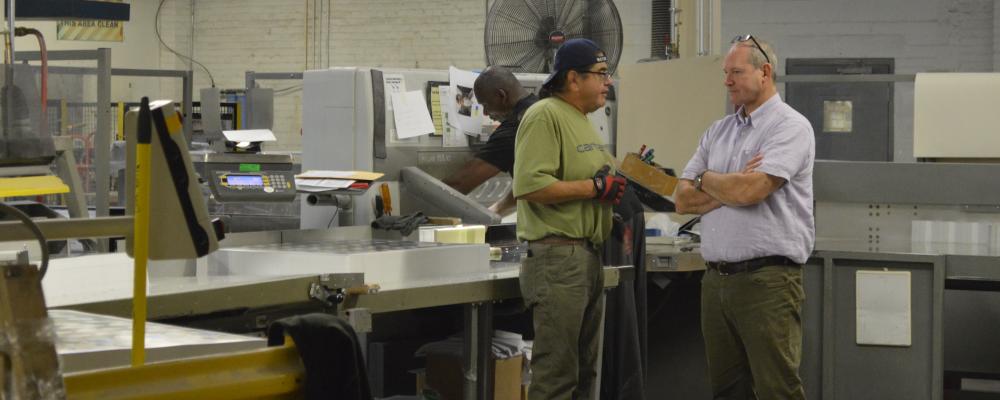 Submitted by

krundle

on Tue, 12/28/2021 - 10:03
With the new year approaching quickly, it is a perfect time to make a fresh start.
Carter Printing Company has two new available full time office positions for people enthusiastic and educated in their given field. 
Each of these roles works within a small, tight group to best help all jobs and clients as work travels through production. Our ideal candidates will be willing to learn, help, and be excited to be part of the team.
We pride ourselves on our inclusive and inviting environment. Together we create consistently reliable and efficient work known to our customers. Joining our team is more than entering a workspace. Signing on with us means entering a community of people who enjoy their day-to-day jobs and take pride in our productions. The office and factory are back to back with simply a door between them. Working in one means getting to know the people and layout of the other. Like in any family, communication is key at CPC.  Together we can fulfill the needs of our clients while finding fun in each of our tasks.
At the moment we are seeking-
Customer Service Representative:
CSRs are the backbone of Carter Printing Company. From working 1 on 1 with sales reps as jobs go through estimating to handling customer support through each step of production, they are both the voices and the carriers of the company. When a quote is approved, it is assigned to a CSR who follows it through prepress, production, and shipping. They communicate internal messages and answer any client questions. Through facilitating this they form friendships with coworkers in every department and consistent clients as well. They manage the work through PACE online system.
Prepress handles the files from submission to the time they go to plating or digital press. After a job begins, a CSR will pass it along after review to the Prepress department to make digital and hard proofs when they are requested. Prepress works with Epson printers for hard proofs and software such as XMF, PitStop, Acrobat, and InDesign. The technicians communicate with the CSRs to adjust and prepare the files to fit customer expectations and achieve the best print quality possible.
Do not hesitate to email hiring

carterprinting.com with any questions regarding the open jobs. The CPC family encourages all to apply and looks forward to reading resumes and applications.
Read further job descriptions and apply today on our website or Indeed.