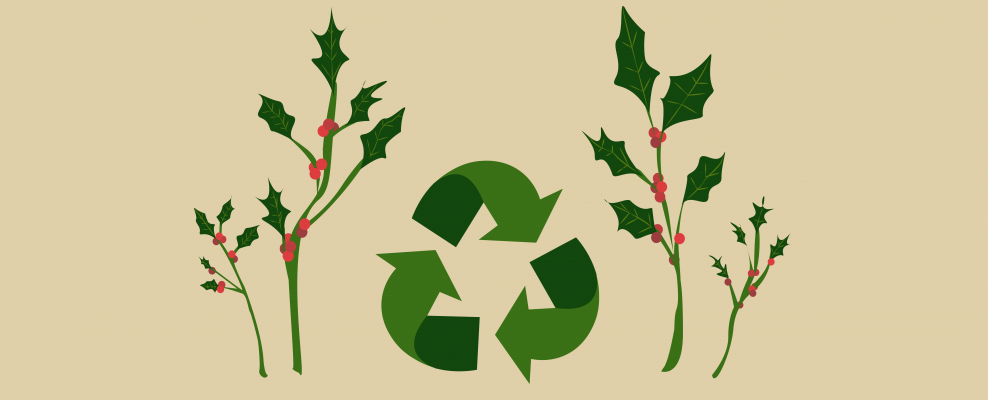 Submitted by

krundle

on Mon, 12/20/2021 - 08:53
Christmas is in five days, and we're here to help.
While presents with bows, ribbons, and sparkly wrapping are beautiful, the real question comes at the end of Christmas day: what do we do with it now? Stuffing it all into a trash bag as the day goes on is an easy way to get rid of waste at the moment but can have negative environmental impacts for years to come. 
Careful unwrapping and reusing the bags, boxes, and bows are the simplest and most effective ways to keep your holiday cheer from sitting in a landfill. However, if you don't feel like keeping half-crumbled plastic ribbon and shiny paper in your closet for 11 months, we have some earth-friendly ideas.
Finding eco-friendly wrapping is surprisingly easy.
Even in a time where physical maps and newspapers are increasingly rare, scour the drawer that has not been organized since 2012 or see if a neighbor orders a paper, and give your presents an old-fashioned twist.
Matte Kraft paper is sold at most stationery stores, craft stores, and major retailers. When searching through wrapping rolls the ones with a rough papery texture are often the recyclable ones. Many even have beautiful, inked patterns and colors. Being Earth aware doesn't mean you have to brace yourself for being teased over a dull or boring-looking gift.
Environmentally conscious does not have to be expensive either. Paper bags and tissue paper -- without glitter -- are a wonderful way to wrap – and keep your family and friends from immediately guessing that you did, in fact, get them another pair of socks. Check out your local Dollar Tree or other discount stores for some bright paper bags that fit your Christmas color scheme. Fully paper boxes are another great way to do this.
In recent years, biodegradable and plantable wrapping paper with flower seeds embedded into its thin layers has popped up on the market. Try your local businesses and small paper stores while finding these unique treasures.
There are also a plethora of ways to be creative and funky with exterior present wrapping. Skip fabric ribbon unless you plan to reuse it because twine is biodegradable! Grab a spring from a pine tree nearby or a couple of holly leaves to tuck under the ribbon for a special festive look. Tie the base of a pinecone in with your twine bow. After the presents are opened, these can go back outside and be naturally absorbed by the earth.
Another idea is reusable gift baskets. Create a themed present in a flowerpot, gather up stocking stuffers in a woven basket, or tuck it into an empty holiday popcorn tin. In these the wrapping features as part of the gift.
Even if you only wrap one or two of your presents in recyclable paper, every roll of paper counts.