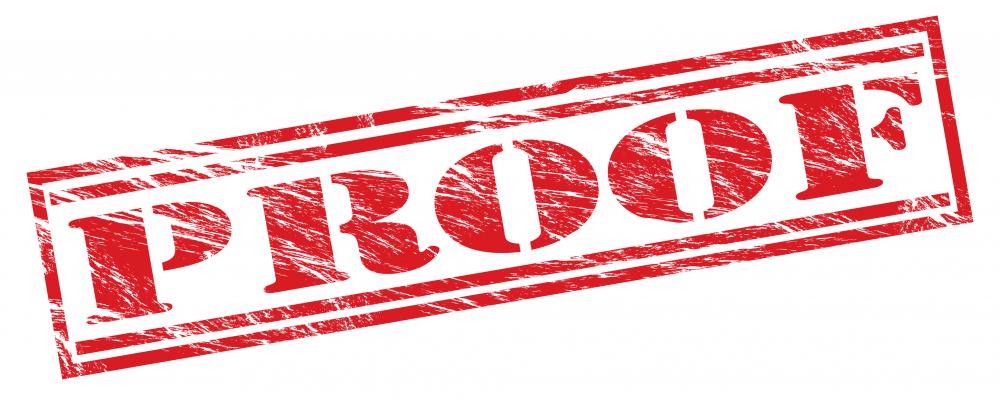 Submitted by

dhutton

on Mon, 03/23/2020 - 09:45
Proofing is one of those things in printing that everyone knows you need it, but beyond that there is a lot of confusion.  We have streamlined and standardized our proofing process, so that all the stakeholders in a project know what the purpose of the proof is and equably important what it is not.  This post is a bit of inside baseball, but letting you in on how we are approaching your job will help us all.
A proof must provide the following things:
Accurate and correct color proof to press

This is used by the pressmen as the target to match

Press form content proof including layout and color bars

This is used by the plate-makers and pressmen to make sure that their plates and press sheets match the layouts and that  everything that is supposed to be printing is printing and in the correct place.

Construction proof for bindery

This is used by the bindery to make sure that everything is assembled correctly and in the right order.  This is especially helpful when a project has multiple signatures, inserts, or any element that isn't 100% clear which side is the front or back.

Product version content proof for bindery (when applicable)

Often times projects such as catalogs may only have one page, or a logo that is different for each destination.  Having a content proof of those changes for bindery is necessary so that we make sure to assemble the various versions correctly.

To manage risk to Carter Printing and our customers

Without a proof that we both agree upon we might get to the end of the job and you aren't happy.  Neither of us want that, so a proof helps set expectations.

Defined target tolerances

How close to the edge can you print, how accurate is the fold, how close will color match?  You will find our production tolerances further on in this blog post.

Confirmation of pagination from customer

This is the most important thing we need from you our customer.  We are experts at color and binding, but we are not mind readers.  So if a page is out of order or flipped front to back, we do not have any way of knowing that.  If you make sure that your proof pagination is correct we can handle most everything else.

Instructions to manufacture that can not be communicated clearly in the job jacket.

A picture is worth a thousand words.  Some projects your creativity defies words.  For those really cool and unique projects a fully assembled proof is necessary to explain to our shop how to make the end product.  We may even ask you to provide us with one.
Workflow to produce the correct proof.
Now that we know what we really need out of a proof we have to be able to figure out what kind of proof to make.  The proofing workflow shown here is how we will decide what kind of proof to make that will answer all of the identified needs of a proof.  Click on the image to see a larger version.

The end result for you as a customer is based on how you answer the first question. Do you need to see a color contract proof?  If you answer yes to that question then we will provide you with a hard proof that is printed and and measured to verify the color is accurate to our standards.  When we produce the job that color proof is what we will use as the target to match.  For printing on coated paper we target a Delta E 2000 match of 6 or better and on uncoated a Delta E 2000 match of 8 or better.  The short version is that your final print might vary slightly in color from the proof throughout the print run, however we will be constantly monitoring to make sure that your final print matches the proof as closely as possible.
If you answer the first question saying you do not need a color contract proof, then we will send you an electronic proof for you to check the content and pagination before we send it to press.  Making this choice is not compromising the color of your final printed product, because we will still create a proof internally that we will verify for accurate color in the same way as if you received a hard proof.  By following G7 methodology we can give you confidence and provable documentation that what we printed matches what you designed.
Rules for making proofs:
Every proof must be labeled with the job number at the time it is printed.
All proofs will be labeled positively identifying what they are for.
Every job must follow this proof workflow.
Proof makers will apply the appropriate stickers to every proof before it is given to anyone.
Every job over $250 requires a customer signed acceptance of the proof. Verbal OK's are not acceptable.  Email and text is acceptable if documented in Job. 
Prepress with bindery and press and management input will determine the correct proofs to make for special circumstances.
Previous printed samples are not valid color proofs but can be acceptable for construction proofs.
All proofs for color will have a color control target that is measured and passes Carters color targets. Spot colors will be labeled.
Positive identification of all proofs.
To positively identify proof we have developed stickers that are applied to any hard proofs.  You may not see these if you are only viewing a PDF or other soft proof, but if you do receive a hard proof you need to know what these stickers mean.

Required sticker to positively identify job if the proof is not already printed with the job #.

This sticker identifies a proof as a certified color accurate proof and the target for the press to match.
This sticker identifies a proof that can be used to proof the content of the print piece.

This sticker identifies a proof that shows the final assembly of the piece.

This sticker is not required but can be used to positively identify proofs that are not to be used for color to prevent confusion. An example might be a construction proof printed in color.

This sticker is not required but should be used to positively identify to press operators color or position critical pages that are a crossover. Eg. cover to text crossover on different papers or separate press runs.

This sticker is used to identify the use of a spot color for press. The color target (Pantone Book / Swatch) for the spot should be in the job notes.
Color Targets:
Carter Printing is a G7 certified shop and we follow the G7 methodology in all of our printing.  To state it simply we print to industry defined standards that are focused on being able to reproduce visually accurate numbers and being able to quantify numerically how accurately we are printing.  If needed for your clients we can provide documentation that your job was printed to these color targets.
Proof: G7 Specifications for Targeted (Digital) or Colorspace (Offset)

Coated - Colorspace GRACoL 2013 CRPC6
Uncoated - Colorspace GRACoL 2013 UNC CPRC3

Production Offset: Delta E 2000 average of 6 to the proof
Production Digital: Delta E 2000 avarage of 8 to the proof
Production Targets:
All of the books, pocket folders, fliers, and more that we make are a hand made product here in the USA.  Because of this there will be some variation between each piece.  Of course we will always try to minimize variation, however knowing what may or may not move in the design will let you design a better piece where any variation will not show.  One very important note is that often a proof is made using an entirely different process and often on different paper, and because of this will not hold to these same production tolerances.
Front to back registration +- 0.5mm (1/64")
Folding +- 0.5mm (1/64")
Cutting +- 0.5mm (1/64")
Stitch position consistency +-0.8mm (1/32")
Three Side Trim +- 0.5mm (1/64")
Perfect Binding Spine Position +-0.8mm (1/32")
Round Cornering  +- 0.5mm (1/64")
Die Cutting Registration +-0.8mm (1/32")
Spot UV Registration +-0.8mm (1/32")
Foil Stamping Registration +-0.8mm (1/32")
Gluing +-3.0mm (1/8")
Drilling +-0.8mm (1/32")
Construction proofs will not hold these tolerances
Final Thoughts
We hope this window into our world and the thought and effort that goes into making a proof for your project is helpful.  A proof is a critical and often misunderstood part of getting your artwork turned into a beautiful finished product.  Take your time and look over the proof we send you and make sure that it is all correct before you give us the go ahead to turn your imagination into reality.  If you have any questions please let us know.