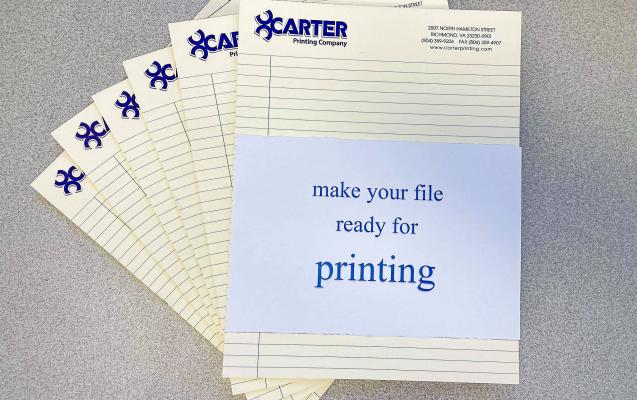 Submitted by

krundle

on Mon, 09/27/2021 - 11:29
We posted this How-To last in 2017- but a lot has changed since then!
So your work is designed and you're ready to get it printed. What's next?
Step One: Final Checks
Before you're really done, go over your images one last time and confirm if they touch the edge of the page, they extend by 1/8" over the trim line. This creates a "bleed" and prevents a white line from forming on the edge in printing. Also in relation to edges, images closer than 1/8" to the spine in books or magazines might not be visible.
Double check that all your images are 300 dpi or more. While 72 dpi is standard for online, in order to have a clear image on paper it must be at least 300.
Make sure that your colors are correct in CMYK and any Pantone colors are correctly matched.
Finally, ensure that all of your fonts are embedded.
If those four things are all set up, your art is finalized, and your text is how you want it: You're ready for the next phase.
Step Two: Export
Use your illustration software to export as a PDF with single pages – not spreads (two facing pages) with preferably a resolution of 2400 dpi. Select "embed all fonts", "leave color unchanged", and "use bleed settings" if those are options on your software.
Tip: For easiest access, "package" your InDesign file and upload the entire zipped folder. This is especially needed for complicated folding projects or when layout changes are needed.
Step Three: Upload
Go to our "File Upload" tab on our website. Zip – compress – all files to upload together including any linked pictures or fonts. This will put your file on our server and get it into our system.
If you have any questions please use the contact us form.