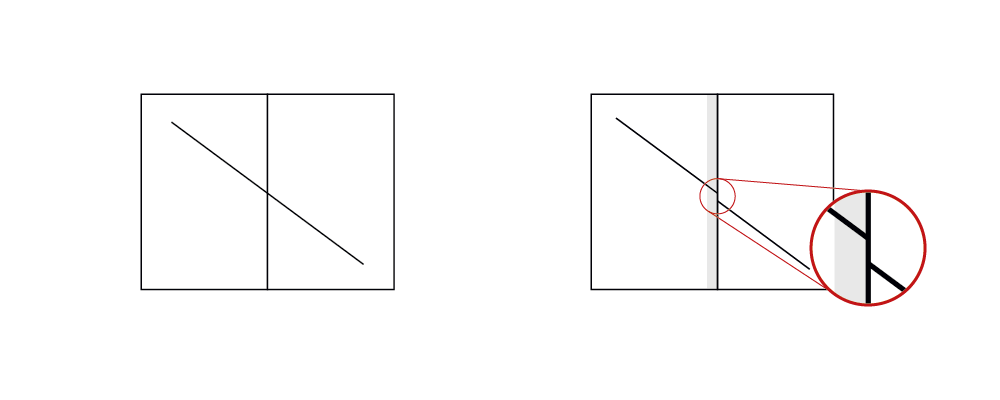 Submitted by

admin

on Thu, 02/02/2017 - 14:18
A crossover is a page spread where text and/or image crosses over the spine from the left hand to the right hand page. It is important to properly align these pages so that the objects that cross the spine do not appear to be miss-aligned or partially omitted. The following best practices will help hide visual imperfections in the normal print production process.
Try to keep the main subject in images from crossing the spine. For example, it is not appealing for peoples' faces and heads to be in the spine.
Try to keep text letters away from the spine. To do this align the text so that the spine is between words but if that's not possible use a large bold font that will be less noticeable than a thin scripted font.
The process of making crossovers look good is more critical for perfect bound books than saddle stitched. Perfect bound books generally have more pages and can't lay completely flat so it is difficult to see what's close to the spine. More advanced techniques may be required to make crossovers for perfect binding books. Because of how the spine is constructed, the hinge or pivot point between the inside cover and the first text page is generally 1/4" away from edge of the spine. Compensation to the file needs to be made if critical crossovers are used in perfect binding or they will be noticeable.
Try this exercise:
Take a piece of paper and draw a diagonal line from the upper left side to the bottom side of the paper. Cut the piece of paper in half vertically then place the two halves on the table side by side and align them as if they were never cut apart. The left piece of paper represents the inside cover and the right is the first text page. The cut edge is the hinge is pivot point between the pages and now move only the right side of the paper to the left 1/4" so it's underneath the left sheet. The diagonal line looks out of register top to bottom.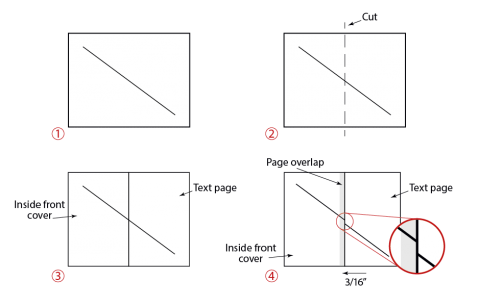 If you follow the two points at the top of this page, then crossovers will likely not be an issue in your final printed book. If you have any questions or need any help setting up your artwork, please do not hesitate to contact us.